The petroleum industry: Breakthroughs in science.
With the oil and gas industry is aware requiring the use of high technology, modern machinery and equipment, oil and gas industry leaders through the ages has always been interested in scientific research and technology development.

That shows in the Oil and Gas Group chose science and technology is a breakthrough in 3 to implement its strategic acceleration.

Mr. Nguyen Quoc Thap - Deputy General Director of PetroVietnam visit and congratulate the scientists at the Institute of Science and Technology Petro Vietnam's day (18/5)

- Petro is being considered as one of the forces units of science and technology (S & T) is quite strong. In parts group advising leaders of the Committee


Science - Technology;
specialized research unit that Vietnam Petroleum Institute. At the unit members also have departments for Monitoring Science and Technology; large units including technical support centers, even JV Petro Vietnam - Russia (VSP) must also research institutes and design.
There is general industry consulting firm Petroleum and design; University of Petroleum and Petroleum Training College.
Mr. Nguyen Quoc Thap - Deputy General Director of the National Petroleum Corporation of Vietnam (PVN) - confirms the role science and technology for production, business group dynamics play a role. All activities from exploration,
oil and gas production, storage, transport, processing, distribution, consumption is far more than the administration and operation of the Group is required to science and technology. The achievements of science and technology should be exploited in the best way and best new effective production and business.
Mr. Nguyen Quoc Thap - Deputy General Director of PetroVietnam:
When managers are more interested, more practical science and technology is sure to difficulties and obstacles in this activity will be removed. We do not expect to remove in a day, two days, but if the consensus was the purpose of us going.
The scientific work of the PVN from the date of its foundation a lot, but there are two prominent works include: The basement rocks process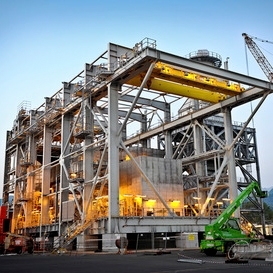 executed by Russian experts (former USSR) and Vietnam.
Works discovered basement floor and basement floor master and ultimately the optimal exploitation and effective from the basement floor to hundreds of millions of tonnes of oil have been extracted from here.
of this achievement, the work was awarded the Ho Chi Minh City.
Second work is a very important achievement of the Group and of mechanical engineering Vietnam that is, the process of designing, building jackup 90m of water. This work has been awarded Science and Technology 2011-2015.
Group and also received master of technology firms license in Dung Quat Oil Refinery, Phu My
Ca Mau, PVTEX Dinh Vu, ethanol plants ... and safe operation - Mr Cross for know.
However, according to Mr. Cross, the application of science and technology in production now also inadequacies in resources, scientists are also limited, the leading expert in the field is not much, so the exploitation of the the fastest way, is still the shortest distance. I think that's the biggest obstacle.
"We also recognize the shortcomings and one of the solutions is to increase international cooperation, strengthen academic exchange between experts in the country, and the international industry. It is the shortest route brought the scientific achievements into production "- Mr Cross said.
Miniature oil and gas equipment
The desire is owned and enriched waters, the island nation's past shows up not only new oil and gas drilling a modern day, more scale, but also from a desire to master the technology of the oil industry engineer gas.
Engineer Nguyen Xuan Quang and colleagues at Enterprise borehole geophysics (JV Vietnam - Russia VSP) also in his desire to bring it. Anh Quang said the research process system "Measuring deviation logging and borehole azimuth continuous 60 mm" lasted for over 2
Vietnam market survey
this instrument is almost exclusive technology of the developed countries like USA, UK, Russia and more recently China. Difficult for engineers to conduct research that Vietnam has never had any technology in the field of fabrication of specialized equipment for borehole geophysics.
The specialized equipment are very expensive and not always afford, such as inclinometers size 60 mm still no supplies. "The reduced size of the system is also a target of the group,

but it is also the result of the research process and apply new technologies - adaptive design techniques and compact module. We also ask ourselves the internal resources accumulated technology and over 20 years experience can boldly stand out to receive this topic to deploy in practical applications, "he Quang proud.

Equipment was born not betray Optical engineers and colleagues in the team. It meets the most demanding requirements of specialized geophysical borehole at Venture Vietnam - Russia VSP, saving a lot of cost and time.

If as the late 20th century, Vietnamese and Russian engineers needed equipment to cumbersome by 3-4 fridge, then also to improvements in a washing machine. Each measured when logging (for geological survey),

engineers must wait bulky machine tanker rig this up, or have removable parts to send in helicopters. It's hard to imagine a day, that machine is compact receiver that can be portable,

machine sizes wells longer just a little AK, surface station only 2 units equivalent compact laptops, and more importantly, this is the product of intelligence and desire to bring Vietnam.

60 billion in revenue from oil and gas and chemicals dedicated

Fertilizer Corporation and Petro Chemicals (PVFCCo-business manufacturer Phu My fertilizer and chemicals) - said the factory oil and chemicals in Ba Ria-Vung Tau's new operating corporations commercial from early 2014,

So far, the market has provided more than 5,000 barrels of oil and chemicals dedicated to bring 60 billion in revenue.

This is a workshop production of chemicals, specialty chemicals first investment to provide specialty chemicals for oil and gas companies operating in Vietnam.

- Chemical factory petroleum products with a capacity of producing 25,000 barrels / year, processing, producing the kind of chemicals, specialty chemicals used in oil, gas and chemicals used in the plant oil refinery.

Workshop is the construction on the basis of a cooperation agreement between PVFCCo and Baker Hughes Petrolite Company to manufacture all kinds of processing chemicals, specialty chemicals used in mining, petrochemical and gas under the production process, quality management of Baker